Best Home Blood Pressure Monitor

Keeping an eye on your blood pressure is a smart and healthy thing to do. At present, so many people are suffering from high blood pressure (hypertension), and as a result, a lot of doctors are asking their patients to keep tracking their blood pressure at home using a blood pressure monitor.
Utilizing a blood pressure monitor at home helps you keep track without the need of going to the clinic or visiting a physician. Every BP monitor is used by fitting the cuff either on the wrist or upper arm. Although most bp monitors use the upper arm cuff, some use the wrist cuff monitors, but their readings are less accurate and thus are not very much recommended by physicians.
You must note here that these products must be used in consultation with a trained and experienced medical professional. Please note that only your doctor understands your health exceptionally well and is in the best position to advice accordingly.
Why buy a home blood pressure monitor:
Top 3 reasons behind buying a blood pressure monitor are as follows:
It helps track your treatment: A way of knowing whether your blood pressure medications are working or your lifestyle changes, is to check your blood pressure daily. If you have a Blood pressure monitor at home, your doctor can seek your blood pressure history from you on the trends of your BP readings, and then take decisions about your treatment anytime, like changing medications or adjusting dosages.
It helps with the early diagnosis: Self-monitoring helps your doctor diagnose the level of your BP earlier than whether you have just occasional readings of BP in a clinic. Monitoring at home is specifically necessitous if your BP is always slightly higher than normal (prehypertension) or for other condition which can elevate your BP, like kidney issues or diabetes.
Reduce your healthcare expenses: Self-monitoring easily decreases the number of time you visit a clinic or a doctor and this consequently reduces health care expenses you may have to incur.
Benefits of Blood Pressure Monitor:
Let us find out the top benefits of using blood pressure monitor at home:
More accurate readings at home: There is a condition called white coat hypertension where a patient records unusually high blood pressure rates due to being in a clinical or medical setting. Measuring your blood pressure constantly at home will enable you get the true reading as the white coat hypertension is eliminated as you measure your blood pressure in the comfort of your home.
Convenience during the treatment process: During the treatment process, you should record your blood pressure readings and keep the track of how the body is responding to medications and treatment. Daily clinic visit regarding BP level checking is not at all a convenient option. So, this is where home blood pressure monitoring becomes handy.
Peace of Mind: People suffer from hypertension due to hectic and stressful lifestyle. checking your bp regularly at home keeps you track your bp levels and ensure it is normal, so you are left with peace of mind.
Important action at right time: In spite of healthy lifestyle and fitness, diseases come with age. So, daily monitoring blood pressure is the best way of keeping a check on future health issue. Thus, using a BP monitor at home helps you detect hypertension earlier on for effective treatment.
With the technological advancement, the medical science has emerged to a new level, where it can help patients live healthier and longer. A BP monitor is the perfect example of it.
Tips to buying the perfect blood pressure monitor:
Select a top-notch device which has all the features you require and will make the testing procedure a seamless one for you. For instance, some bp monitor device models permit you to collect and record all the readings for more than one user. We would like to recommend to you the models that are rated simply excellent for their accuracy; however, there are some other factors you need to consider as well. Here are some tips on buying the best blood pressure monitor for you:
Consider the price: The models we will recommend to you are really affordable to buy. We advise you look out for a bp monitor with increased accuracy whether your insurance covers the BP monitor as well.
Check the fit: Ensure the BP monitor you pick up comes with a cuff which fits your upper arm's circumference. Using a cuff that is completely wrong sized can yield to incorrect readings. Numerous arm models tested by us come with one or two cuffs which can be adjusted for fitting most people. The wrist models are also suitable for many people.
Choose in accordance with the features you require: Bp monitors with numerous features are there for the taking, but remember that while choosing a blood pressure monitor, a few things to consider are: risk category indicator, irregular heartbeat detector, multiple cuffs, multiple user memories, large digit display, memory download capacity, and data averaging function.
Select one which is easy to use: Opt for a bp monitor that comes with an easy-to-read display. The buttons must be intuitive and large. The directions for using the cuff and functioning the monitor must be clear.
Comparison Table
| Product Name | Type of Monitor | Pros | Cons | |
| --- | --- | --- | --- | --- |
| Withings | Wireless Blood Pressure Monitor for Apple and Android | Considerable data capability and advanced technology | Costlier than competitors. Poor user manual. | |
| Omron BP742N 5 Series | Upper Arm Blood Pressure Monitor | Advanced Accuracy helps ensure consistent, precise readings. This model is quick and easy. | A small amount of users complains that measuring results were inconsistent. | |
| Omron BP652 7 Series | Wrist Blood Pressure Monitor | Simple One Button Operation. Clinically Tested and Validated Accuracy. | Display is not backlit; Warranty does not cover wrist cuff | |
| Omron BP786 10 Series | Upper Arm Blood Pressure Monitor | Clear and easy-to-read display. Free data storage and wireless data sharing with Physician | Batteries not included. The data-rich monitor can take a while for getting used to. | |
| Panasonic EW3109W | Portable Upper Arm Blood Pressure Monitor | Reasonable accuracy but the best option for the people who are highly interested in high-tech gadgets with connectivity. | A few complaints against accuracy while in comparison with the doctor's office readings. | |
Best Home Blood Pressure Monitor Reviews:
Omron BP786 10 Series Upper Arm Blood Pressure Monitor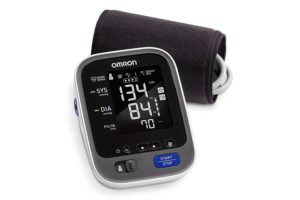 Of all the models tested by us, the Omron BP786 10 Series Upper Arm Blood Pressure Monitor comes as the most accurate device, as we have found that it has the most convenient cuff, and carries the best blend of useful features as well. This device also comes with a Bluetooth connection for transmitting data to your smartphone easily for a simpler health-trend tracking. The BP monitor has the capacity of averaging 3 tests taken simply within the 10-minute window for enhanced accuracy, and also infrequent detection of a heartbeat. It is the only blood pressure monitor that comes with a backlit display and an easy-to-use interface as well.
The Omron BP786 10 Series Upper Arm Blood Pressure Monitor really does an excellent task. It is available to buy and numerous doctors and hospitals recommend it for using at home. Thereby, we advise buying this amazing device today in order to monitor your BP and gift it to your loved ones as well.
Features:
BP level bar
Large display
Multi-user with large memory
Data transfer
Irregular heartbeat detector
AM/PM averaging option
5 years limited warranty
Pros:
A person can track and manage up to 100 readings per user.
Multi-colored indicator lights to clearly show readings
Inbuilt easy-to-read screen feature
Empowers people with accuracy and excellent functionality
The ComFit cuff feature keeps the adjustment and comfort level of the BP monitor very high.
Cons:
Taking three readings in a row can be a poor procedure
Really heavy, thereby hard to carry around while traveling
No 'talk-out-loud' feature
>>>Check the price of Omron BP786 BP monitor on Amazon
Omron BP652 7 Series Wrist Blood Pressure Monitor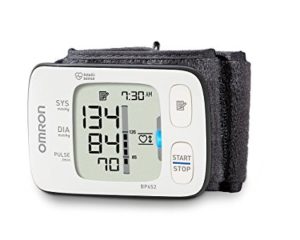 The Omron BP652 7 Series Wrist Blood Pressure Monitor easily gets activated when your wrist is at the heart level and has accurate and consistent readings. This portable device can be taken practically everywhere for checking your blood pressure at every time. This Omron BP monitor is multi-tasking as well as discrete. The blue flashing light indicates when a user is in the perfect position to commence his blood pressure reading. This Omron Automatic Wrist BP monitor also comes with an averaging feature which contrasts the latest 3 readings taken in the final 10 minutes. Additionally, you as well as another user can utilize this device since it comes with a 2-user interface that can track up to 100 individual readings. There is also a time and date stamp storage memory function as well. The Omron BP652 7 Series Wrist Blood Pressure Monitor is simply perfect for people who are basically on the go.
Features:
Average of 3 accurate blood pressure readings
Cuff size is between 5-¼" to 8-½" and the cuff fits most of the wrist
Easy to use
Slim, portable size
Comes with the BP level indicator
Multi-user mode
Irregular heartbeat detector
Comes with a carrying pouch
Reasonable price
Two AAA batteries included
5 years of warranty
Pros:
Best for traveling
Automatically displays the last 3 readings
Hypertension indicator icon
Two-user mode for tracking 100 readings
No. 1 doctor recommended brand
Portable wrist blood pressure monitor
Cons:
Warranty does not cover the wrist cuff
Reading may vary while in comparison with arm cuff monitors
>>>Check the price of Omron BP652 BP monitor on Amazon
Omron BP742N 5 Series Upper Arm Blood Pressure Monitor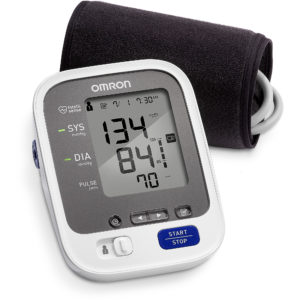 The Omron BP742N 5 Series Upper Arm Blood Pressure Monitor with Cuff helps make sure of exact, consistent readings. This model is easy and super fast to utilize. It also comes with a few more features than the 3 Series Upper Arm. This blood pressure monitor incorporates dual settings for memory storage space, up to 100 readings fr 2+ readers and a large range cuff which fits large and standard arms. This bp monitor gives its user a greater level of confidence to accurately determine his blood pressure and plan ahead for treatment if need be. The Omron BP742N 5 series' contrasts your levels to normal home BP levels with its BP level indicator. Additionally, the cuff immediately warns you if your heartbeat is not regular when the measurements are actually taking place. This helps to prevent the case of white coat hypertension occurring.  As earlier discussed, White coat hypertension is when you have high blood pressure readings only when you are in a medical setting. The Omron BP742N 5 Series Upper Arm Blood Pressure Monitor is made with longevity so that it can hold up against heavy usage. The doctors basically recommend it so you can be rest assured that you are getting a high-quality product.
Features:
Dual settings
Doctors and pharmacists recommend as the no. 1 brand
Automatically averages the last 3 readings for a more accurate impression
Wide range D-ring cuff
Irregular heartbeat detector
4 AA batteries
Pros:
Directions for using on cuff
Extremely good for comfort
Data averaging function
Large digit display
Incorporates 2 cuff sizes
Enables multiple users for storing readings individually
Features BP risk category indicator
Also, works on the wrist
Cons:
Users complain that it is not calibrated properly
Complaints against device providing a higher rating than the office of the physician
Makes some noise
>>Check the price of Omron BP742N BP monitor on Amazon
Withings Wireless Blood Pressure Monitor for Apple and Android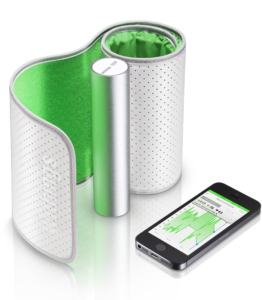 The blood pressure monitors do not come more standard and stylish than this particular unit from the well-known house of Withings. It has seamless Bluetooth connectivity. Even as early as you click the button on the unit, it introduces the reliable Health Mate app and begins the test, uploading the color-coded yield straight to every smartphone for forwarding and simple recall of data.
The application is nicely designed with simple menus and crisp, clear graphics. It does so much more than just monitoring blood pressure: it helps to keep you aware of your regular actions and sleep patterns and it tracks the person's weight as well. Withings is well-known for its nicely designed health-related gadgets.
We find this BP monitor to be an excellent choice for everybody searching for a travel-friendly monitor which you can use to record and share your health info.
Features:
Highly accurate
Automatic wireless synchronization with the Health Mate app
The cuff inflates automatically
Simple and easy to use
The app gives feedback of readings in color, which helps grasp the measurement easily.
The device has dual connectivity.
Multi-user mode
It can configure the monitor for taking the readings 1-3 times
Expensive product
4 AAA alkaline cells
12 months warranty
Pros:
Compatible with both android and iOS
Dual connectivity (wired and Bluetooth)
Recommended values and detailed results displayed in the app
Highly accurate blood pressure monitoring
Sleek, futuristic design
Batteries are included and pre-installed for you
Low noise level
Cons:
High price point
Only 12 months warranty
Health Mate app is not tablet optimized yet
>>Check the price of Withings Wireless BP monitor on Amazon
Panasonic EW3109W Portable Upper Arm Blood Pressure Monitor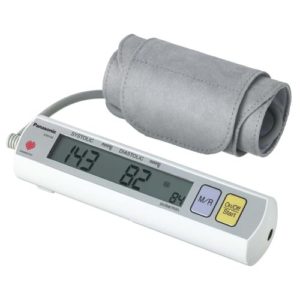 Do you want to measure your BP wherever and whenever you want? If the answer is yes, then what you need is Panasonic EW3109W Portable Upper Arm Blood Pressure Monitor which comes in both white and gray colors. If you wish to monitor your BP over a time period with care, then this monitor is perfect for you. Panasonic range of BP monitors is considered as accurate, reliable, easy-to-use, and comfortable. The brand is trustworthy and you can trust it for measuring BP in the comfort of your house.
This particular BP monitor is affordable as well as simple where accuracy is not a problem. The features of this particular model must be the determining factor as to whether this model would be the ideal fit for you. It preserves a maximum of ninety readings, utilizes a Digital Filter Technology which reduces the noise factors which can contribute to an incorrect reading, and does not have a 2-user mode as well. This device will also indicate signs of hypertension. In a nutshell, you get a great product at a low price especially  if you are somebody who wants a fundamental accurate BP monitor with a pair of additional useful features.
Features:
4 AA batteries included
Large LCD display
Easy to use: one touch operation
Automatic memory feature saves the readings
Flash Warning System for Hypertensive Readings
Digital Filter Technology for Accurate Measurement
Pros:
Lightweight
Notifies user's hypertension
Saves up to 90 readings
Simple one-touch auto inflate system
Cons:
According to Amazon buyers, this device is not very accurate.
>>Check the price of Panasonic EW3109W BP monitor on Amazon
Conclusion:
Finally, it really comes to what your choice is. You won't go wrong if you pick any of the BP monitors from our recommended list, as all of them have good ratings and reviews on Amazon. Nevertheless, if you are searching for a leading brand, great design, amazing quality, and consistently good results, you must try the Omron BP786 10 Series. If you require a convenient wrist monitor, paired with amazing accuracy and affordability, then go for the Omron BP652 7 Series Wrist Blood Pressure Monitor. For the consumers who look for great value for cash and don't want to compromise on quality, Omron BP742N 5 Series might be the answer.